Helston stay in touch with top two with win at Falmouth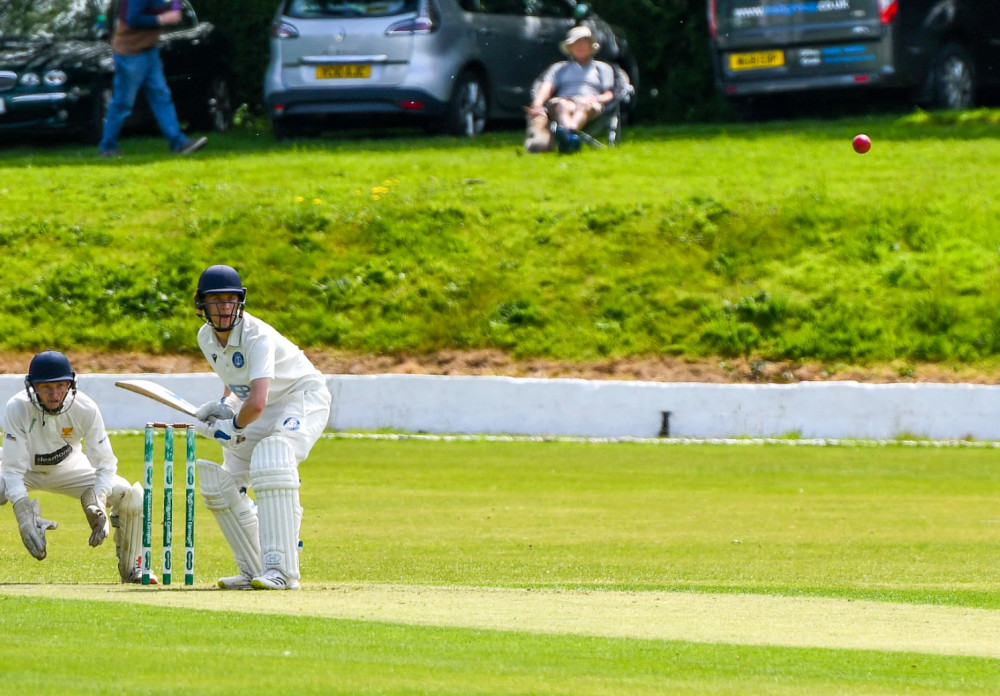 Victory for Helston against Falmouth. Image: Matt Friday / Cornwall Sports Media.
By Matt Friday/Cornwall Sports Media.
Helston kept up the pressure on the County Division 1 frontrunners after beating Falmouth by 28 runs at the Hine Downing Oval on Saturday.
Opening batsman Dan Jenkin top-scored for the Beacon Park outfit with 37 as the visitors managed 203-9 from their 50-over allocation, with Richard Kellow taking three wickets for the hosts.
Falmouth faltered early in their response but fourth batsman Stefan Churcher's match high of 66 got the hosts back on track, but the fine bowling of William Jenkin (5-29) did the job for the away side, who claimed their fourth win of the season from five matches.
The victory, and maximum 20-point haul, keeps Helston 32 points behind Grampound Road and Beacon, but Steve Jenkin's side still enjoy a game in hand on the pace-setting duo. Falmouth's eight-point return keeps them in eighth spot in the division.
Falmouth won the toss at a sun-soaked Hine Downing Oval and put their opponents in to bat first, with Dan Jenkin and Billy Taylor (17) putting on an opening stand of 55 runs before the latter's furniture was removed by Kellow.
Luke Maugeri (2) swiftly departed before Jenkin's innings ended after being dismissed for a lbw off Callum Stephens. The new pairing of Steven Jenkin (33) and Ross Leathley (14) took the visitors past the century as they reached the 25-over mark before the latter fell victim to Perran Burley.
Home bowler Matthew Morgan (2-26) looked to interrupt Helston's progress by removing Jenkin and Sunshine Osmont (24), with the middle-order duo dragging their side past 150 before Kellow removed Will Jenkin (4) and Stephens picked up the second of his two wickets in catching Mark Jenkin (14) off his own delivery.
With the visitors now at 184-8, that left the final pairing of William Eva (5) and Matt Jilbert (17*) to take Helston past 200 before the former was run out by Aidan Carter in the final ball of the innings.
With Falmouth requiring a challenging target of 204 to win, a promising opening over that yielded 11 runs was followed by a nightmare one with openers Scott Kellow (11) and John Richardson (0) being removed by Will Jenkin in successive balls.
Churcher, batting at three, came in and steadied the Falmouth ship alongside Morgan (8) and Carter (0) before they became Will Jenkin's third and fourth victims as the hosts reached 36-4. Harry Roberts (13) then came in at five and provided useful support as Churcher set about repairing the early damage, with the duo putting on 68 for the fifth wicket when Roberts was dismissed by Steven Jenkin.
With the hosts now past the 100 mark with 20 overs still to play, there was now a real hope that Falmouth could get back into this match. Charlie Campbell (23) made his way to the crease and provided a useful 23 before he became the first of Dan Jenkin's (3-13) three victims at the start of the 38th over with the hosts now at 142-6.
Richard Kellow then took his place at the crease but had to watch Churcher's innings finally come to an end at the hands of Dan Jenkin before Burley was dismissed for a golden duck in the very next ball. Skipper Kellow provided an admirable late rally, hitting four sixes on his way to a bright and breezy 31, but the game was up when he became Will Jenkin's fifth and final victim in the 45th over as Helston finally closed out their fourth victory of the campaign.