Cornwall Council faces 'difficult decisions' to make £75m in savings
By Lee Trewhela LDRS Reporter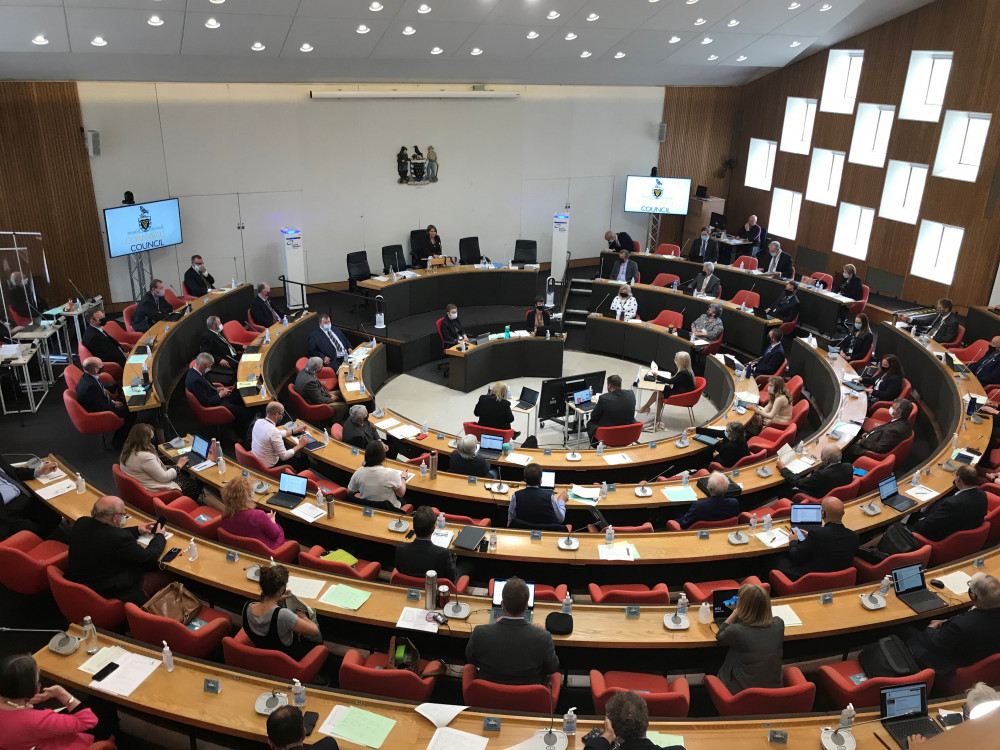 Cornwall Council, County Hall, Truro (Image: Supplied/ LDRS)
Cornwall Council says it faces "difficult decisions" to achieve almost £75m in savings by 2028 in a bid to continue providing the vital services residents of the Duchy expect. The authority is currently identifying areas where it can reduce or stop services.
The council's cabinet will discuss draft budget proposals next week. In order to maintain a balanced budget, the council needs to make a saving of £29m in the next financial year, 2024/25, with a further £45m required by 2027/28.
It was announced earlier this week that council tax is set to increase by 4.99 per cent next year, which will result in a Band D charge of £1,892.75 for the Cornwall Council element of the charge. This is an increase of £89.96 (£1.73 per week) compared to 2023/24.
By the end of the first quarter of this financial year, the council forecasts an overspend of £7.9m against a net budget of £707m, with the overspend due to increase further by the end of 2023. This is mainly due to ongoing demands on the council's housing service relating to temporary and emergency accommodation, along with pressures on home to school transport.
A joint report written by Cornwall Council's chief operating officer Tracie Langley, head of strategy and business planning Matthew Barton and the head of financial planning Ellie Willcocks states that a further £10.8m of proposed savings have been identified as part of the draft budget on top of £18.7m savings already approved by councillors.
"There is, however, a significant recurrent gap emerging across the remaining three financial years 2025/26 to 2027/28 of up to £45m. To ensure that we have plans to balance the future year's budget and close any potential gap which may arise in 2025/26, we will be working over the next three months to find additional savings," says the report to the Conservative cabinet.
"The significance of this level of savings is not to be underestimated; on its own it only represents 6% of the budget, but when taken with the year-on-year level of savings delivered by the council, finding this will be a considerable undertaking and difficult decisions will have to be taken."
There are two key factors at play in creating the financial pressures – firstly, the broader economic climate and, secondly, the impact on services still being felt due to the pandemic and resultant increases in demand.
The financial report continues: "This is not just a challenge unique to Cornwall Council; albeit many other councils are facing even greater financial pressures. Taking all the factors into account (e.g., inflation, pay awards, energy costs and ongoing increasing demand for services), the Local Government Association has identified that councils in England face a funding gap of almost £3 billion over the next two years just to keep services standing still."
Inflation as a result of the economic crisis is also being felt intensely at the council and by its local suppliers.
"We, like the rest of the country, are seeing the impacts of the cost of living crisis manifesting itself in persistently high inflation rates and high interest rates. Our staff pay is likely to be far in excess of what we originally assumed, inflation is impacting the contracts we have with third parties. We are seeing some local suppliers failing which creates enormous market uncertainty, especially in the social care and construction sectors. Like everyone else and all other businesses, we do not have enough money to do everything we are currently doing. This leaves us with the very uncomfortable question of, 'what gives?'."
Areas the council is considering streamlining to save money include:
Identifying areas where the council can reduce or stop our service provision. The report says: "We provide services for which we have a duty under legislation to deliver and we also deliver a number of other discretionary functions and services which either support a statutory service or which support an outcome we wish to deliver. We will not be able to afford to provide all of these services and we will need to prioritise and reduce provision where we can safely and legally do so."
Understanding what opportunities there are to release further operational efficiencies through "harder and faster automation" and to create a leaner more agile organisation through its digital programme.
A review of all functions paid for by a grant to ensure that the cost of delivering those functions does not exceed the grant amount.
A review to ensure that the council is not duplicating functions or activities paid for by grants.
As already approved by full council in principle, the implementation of 100 per cent council tax premiums on empty and second homes, subject to the Levelling Up and Regeneration Bill receiving Royal Assent in Parliament. The Bill is presently at the 'report stage' in the House of Lords, after which there will be a 'third reading' and then 'consideration of amendments', before Royal Assent is granted. "However, there are likely to be some exemptions to the premiums, following a recent Government consultation and the effect of these will have to be assessed in due course for their financial impact," adds the Cornwall Council study.
A review of the capital programme to prioritise projects keep within set budgets.
Despite the need to generate £29m of savings, the council's overall gross revenue budget for 2024/25 is forecast to be in the region of £1.3bn. Its overall capital investment programme, which covers a longer-term period, is also currently £1.3bn. The council's draft net revenue budget for 2024/25 is £756m, which is £48m greater than 2023/24.
New helston Jobs Section Launched!!
Vacancies updated hourly!!
Click here: helston jobs